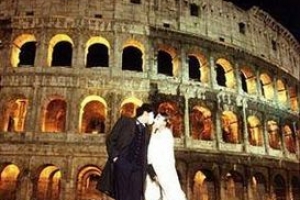 Foreign nationals are allowed to celebrate civil and religious weddings in Italy. However, they may stumble into hurdles while they prepare the relevant documents. That is why I always advise the groom and bride to find an agency with experience in dealing with wedding preparations, especially if the foreign nationals involved are non-EU citizens, and a good translator/interpreter.
The civil wedding in Italy normally takes place in the Town Hall's register office. In some Regions (very few) weddings are allowed to take place in a hotel or villa as long as they are celebrated indoors.
If both parties to the marriage do not speak Italian they must be assisted by an interpreter (that is, me) as they apply to the Town Hall, or present documents, and during the wedding itself. The same applies if either the bride or the groom does not understand or speak Italian.
Foreign nationals resident or domiciled in Italy must first of all request the publication of banns (a request to marry published in a municipal register called the Albo Pretorio del Comune). The wedding can take place between 30 and 180 days after banns have been published. The publication of banns is necessary in order to let third parties know the bride and groom's intention to get married and to allow time to oppose the marriage, should someone consider to do so. Foreign nationals who are not residents of or domiciled in Italy are not required not publish banns. Instead, they must sign a statement before the Registrar of Vital Records at the Town Hall that no reasons exist that prevent the marriage from being celebrated, e.g.: close family blood relations, mental incapacity, etc.
All foreign marriage documents must be translated into Italian by an official translator (again, me).
If you want to know more…
[caldera_form id="CF5862f7283a52d"]
Paolo CAPPELLI @interpreterpaul
Interpreter | Translator
Italian - English - Spanish
US +1 (202) 697-9777
Italy +39 (339) 331-5178
WeTranslate.xyz, LLC is a company registered in the State of Delaware, US
712 H Street NE, Suite 1441
Washington, DC 20002