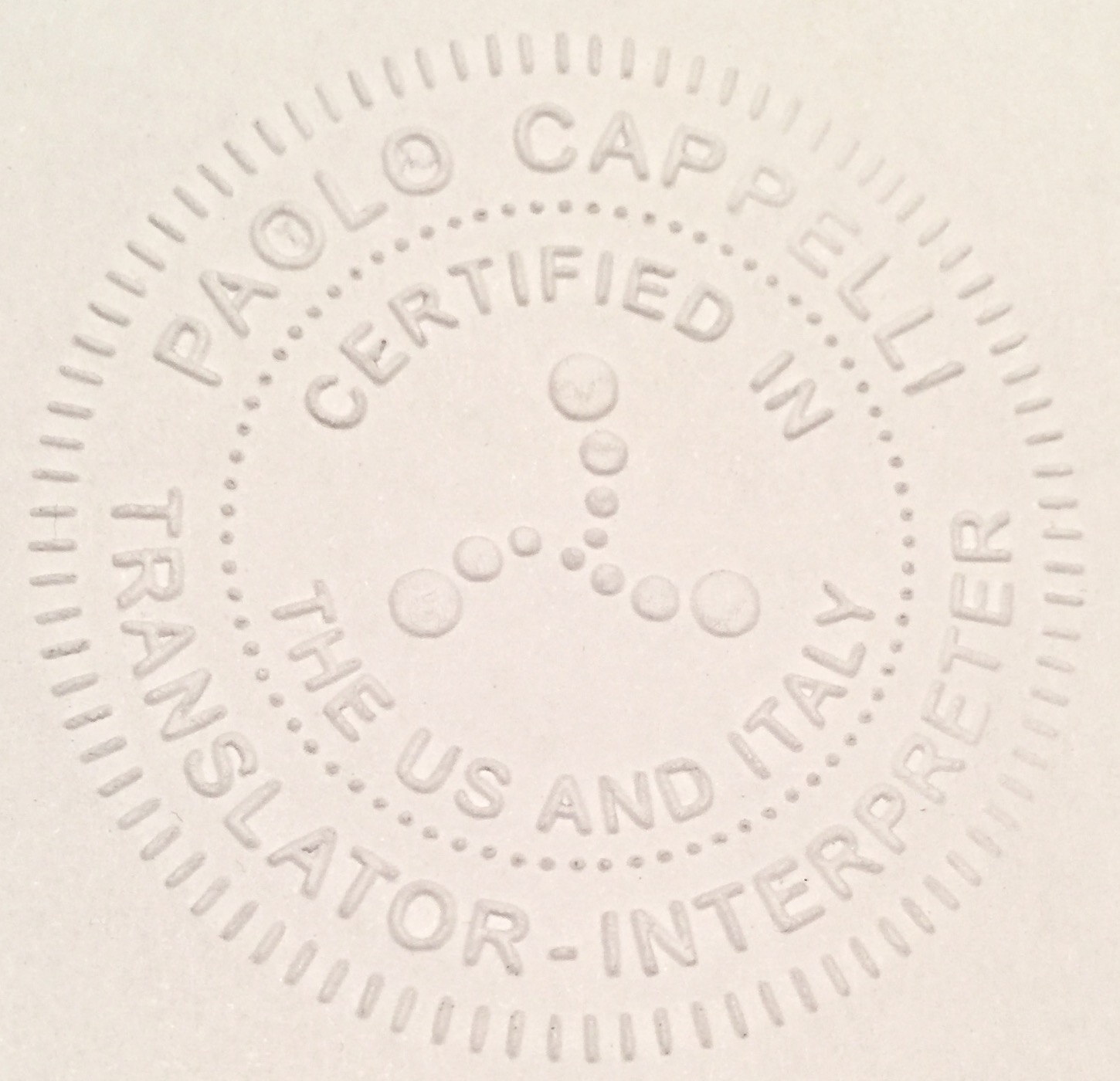 People who do not work in the translation-interpreting sector are often very confused about this matter, which to most seems to be an essentially tiresome (and costly) procedure. Let us clarify the issue a little!
What is a Certified translation? And a legalised translation?
In order for certificates, deeds and documents issued by foreign and Italian authorities (school diplomas, identify document, birth certificate, certificate of pending charges, etc.) to be valid in Italy and abroad, they must be translated, sworn under oath, legalised or authenticated and validated by the translator's own official stamp.
Certified translations
This is a translation carried out by a so-called sworn or certified translator, who, after translating the document solemnly swears before a clerk of the court or a notary that the contents of the translated text are a full and faithful rendering of the original. Certified translators are translators registered in the register of certified translators of the Court or of the Chamber of Commerce.
The translator assumes responsibility for what he or she has translated by signing a sworn declaration (public deed). It is not allowed to swear translations from one foreign language to another foreign language unless at least one translation in Italian is present.
So, for example, if you want to make a certified translation from German to English, first of all a certified translation from German to Italian must be carried out and then a second certified translation from Italian to English of the same text. In this way a certified translation will be obtained. The certification and swearing of a document can be carried out in one or two days.
This step is necessary in case a) you want to make valid in Italy a document or certificate issued by a foreign authority, for which you need a certified translation from the original language to Italian, and in such a case, the procedure will be complete, or b) you intend making official a document or certificate issued by an Italian authority in another Country; in the latter case the certified translation is an obligatory step to be able to proceed with legalisation.
Legalisation
of the certified translation in Court (through affixing of an Apostille) is the procedure through which the relevant Public Prosecution Office certifies the validity of the certified translation, giving further legal value to the translation document under the form of a sworn translation. This procedure takes from four to five working days. However, this procedure can be adopted for the countries that have signed the Hague Convention of 1961 (see more here).
All other States are subject to actual Legalisation:
Signatures on deeds and documents issued abroad by foreign authorities and to be enforced in the State are legalised by Italian diplomatic agencies or consulates abroad. Signatures on the deeds and documents by the relevant Italian diplomatic agencies or consulates or by the officers appointed by them are not subject to legalisation.
For certificates and documents issued in Italy to be enforced before foreign authorities (if they require it):
Signatures on deeds and documents issued in the State and to be enforced abroad before foreign authorities are, where required by these, legalised by the relevant central or local bodies of the relevant Ministry, or other bodies and authorities delegated by the same.
TO AVOID MISUNDERSTANDINGS, WE ADVISE ASKING THE AUTHORITIES THAT REQUIRE THE CERTIFIED TRANSLATION OF THE DOCUMENT IF THE SAME MUST ALSO BE LEGALISED OR NOT AND IN WHICH FORM.
Paolo CAPPELLI @interpreterpaul
Interpreter | Translator
Italian - English - Spanish
US +1 (202) 697-9777
Italy +39 (339) 331-5178
WeTranslate.xyz, LLC is a company registered in the State of Delaware, US
712 H Street NE, Suite 1441
Washington, DC 20002